Smoothing Groups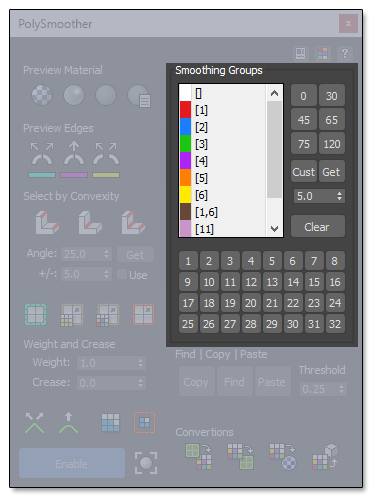 All the model's Smoothing Groups will appear in the list, each one with a different color, followed by the Smoothing Group or Groups it has.
There are 32 fixed colors, one for each Smoothing Group. Beyond that, any group using more than 1 bit will use a dynamic color. There are 128 colors available, if the list of shared groups exceed the limit, the remaining groups will be rendered Black.
Faces with no Smoothing Group will be White.
The Smoothing Groups Selection is synchronized with the Face Selection, so if you select some faces of the model, their Smoothing Groups will be highlighted in the list and if you select a Smoothing Group from the list, all the faces with that Smoothing Group will be selected.
Autosmooth Presets
There are six Angle Presets to automatically smooth the selected faces. They are 0, 30, 45, 60, 75 and 120 degrees. Additionally you can use a Custom Angle and press the Cust button to automatically smooth the selected faces.

You can get the angle between two faces by selecting them and clicking on the Get button. It will automatically update the Angle used to the Angle between the two faces.

The Clear button will clear all the Smoothing Groups on the selected faces.
Smooth Bits
Underneath the Smoothing Groups List, there are 32 buttons to assign or remove Smoothing Groups from the selected faces.
Ctrl+Click: Set the selected faces to use just this Smoothing Groups and remove any other Group.
New Right Click: Select all faces using this Smoothing Group. Faces with Smoothing Groups sharing this Smooth Group will also be selected.
New Shift+Right Click: Add faces using this Smoothing Group to the current selection.
This section is enabled only in Polygon or Element modes.